WHAT IS THE GOLD FORUM ?
Gold forum is a place where you can find quality passwords. The membership here is limited, that means that passwords last much longer. If you need quality, this is your place !

WHY SHOULD I NEED A GOLD MEMBERSHIP ?
First, you can get passwords that are impossible to find in the regular forums. These are the finest sites which has good security protection so the passwords die quick in the regular forum or have download limits, etc.
After you become a gold member, you can access special forums:

So first you can access the Gold Passwords forum. Take a look inside: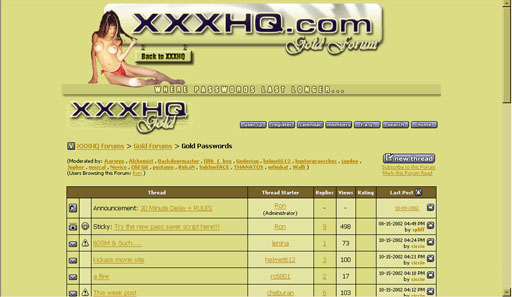 And you can request passwords that are handled with priority so you have much greater chance that somebody will find a pass for you: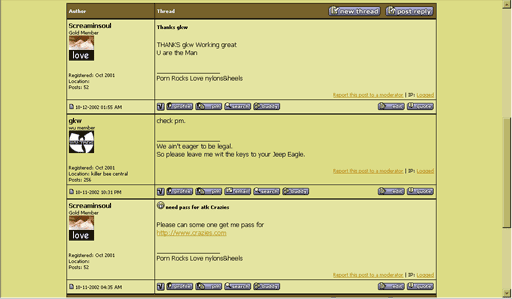 HOW CAN I BECOME A GOLD MEMBER ?

You can be a Gold Member for free if you can prove that you can do quality security tests alone. All invited members are picked by the moderators based on the work of the tester. You don't have to make thousands of posts, just make quality test or filfull requests continously. However, it takes time and requires some skill. If you want instant access, read on...

GOLD MEMBERSHIP FOR 30 DAYS with CREDIT CARDS or US CHEQUE

Please note that this is NOT an automated process. After you fill out the form below, it will be processed by our third party merchant, which usually takes about 1-5 days. When our merchant charges your card they inform us and your account will be upgraded manually to Gold Account. When this change is made we will inform you via email. We also email you if there is something wrong with your application.
CLICK HERE TO SIGNUP FOR 30 DAYS WITH CREDIT CARDS >>>
CLICK HERE TO SIGNUP FOR 30 DAYS WITH CHEQUE >>>
If you want to cancel your Gold membership, just send an email to gold_cancel@xxxhq.com . If you have questions, please read the Gold Forum F.A.Q. and Support